Technology Consulting:
Grainger & Grooms is a leading IT services provider, with a wide range of services across the entire Information technology spectrum. To know more about how we can help you identify opportunities of improvement, build the roadmap to getting there & leverage technology to make it possible, read more about our solutions: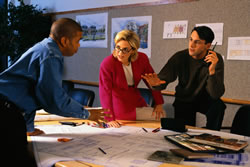 Consulting Services
Grainger & Grooms IT Services provides technical analysis, Turnkey solutions and Business Continuity Assessments for Government or Private sector. Our specialty is Network Security, Web development and Technology planning. Disaster recovery planning and security analysis is a central part of our services.
Government

We work with government agencies on site assessment, Security upgrades, Workstation installs, Networking and Technology purchase planning. Currently integrating virtual server and SAN/NAS technology is a good example of our cutting edge experience. We've saved countless dollars for our clients in recent SAN projects.
Turnkey Solutions
We get results,
proven results
from providing unbiased, vendor-neutral advice and designing a roadmap for clients' IT infrastructure needs, to building and managing the infrastructure throughout its lifecycle, we provide a complete range of services.
We have completed large PC installations, upgrades and database conversions many times. We have a solid reputation building customized infrastructure solutions and integration with the client's other business processes.
Managed Applications

We can manage your applications, upgrades and conversions so that your resources are better able to focus on business. Our solutions have been addressing the needs of industries such as banking, financial services, insurance, telecom, retail, transportation, healthcare, manufacturing, utilities, and the government.