GIS Technology :
Grainger & Grooms supports GIS in a big way. By providing Environmental Engineers with the highest level of customer service and satisfaction. We also support integration between the Property Data, the public sector and the Environmental sector. GIS is a fast growing part of our work, Contact Us for more information. read more about our solutions: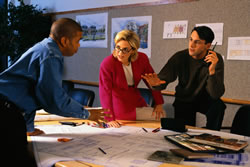 AutoCad / ESRI
AutoCad - We support the drafting sector with custom built, high end workstations. We can even provide Drafting experts for short-term emergencies. We support HP Plotters, installation and purchase recommendations.
ESRI-Arcview - We provide support for ESRI products and help companies make licensing/purchasing decisions regarding their Arcview needs. Upgrades to Arcview systems are routine for us. We recommend Windows XP Professional workstations for any GIS applications.
Version Upgrades. The often feared and dreaded version upgrade, relax, we've been there. We make upgrades successful.

Gigabit to the Desktop

When we talk about GIS, bandwidth is usually not far from the conversation. We have installed Gigabit to the desktop for leading Environmental companies in Florida. We know how to deliver GIS data.
Fault tolerance and fast backups are also crucial to a production GIS system, we can manage your backups.
Storage Solutions

Storage - GIS is storage and bandwidth intensive. We are currently completing projects in this area to provide Terabyte storage capacity and Gigabit to the desktop. We've been there, we can deliver GIS solutions.

Managed Applications

We can manage your applications, upgrades and conversions so that your resources are better able to focus on business. Our solutions have been addressing the needs of industries such as banking, financial services, insurance, telecom, retail, transportation, healthcare, manufacturing, utilities, and the government.